Double Green Matcha Tea from the Republic of Tea is hands down my favorite green tea. It has a delicious grassy, green, spring time flavor that I find to be very uplifting and energizing, but somehow soothing at the same time. This tea contains both organic Japanese Green Matcha Powder and organic Chinese Green Tea leaves, making it even more healthy and delicious than your average green tea.
Continue reading to learn more about the amazing health benefits of matcha tea powder….
(This post may contain affiliate links.)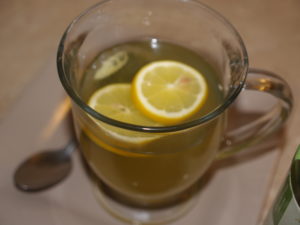 Aside from being delicious, matcha is reputed to have many health benefits, as well. It is very rich in antioxidants. Antioxidants are known to lower the risk of heart disease and cancer, and also to lower blood pressure. Antioxidants neutralize the harmful effects that the sun, radiation and pollution have on your body's cells. It is rich in fiber, chlorophyll and vitamins, as well
Green tea and matcha are also known to boost metabolism and burn calories. It calms the mind and relaxes the body. It also enhances your mood and improves concentration.
If you get migraines from drinking too much caffeine, like I do, you will be happy to know that this tea contains less than a quarter of the amount of caffeine as a same sized cup of coffee.
To learn more about this delicious and healthy Double Green Matcha Tea, CLICK HERE.
How to brew the perfect cup of  Double Green Matcha Tea:
Heat fresh, filtered water to boiling. Let it cool for 30 seconds. Pour hot water over your tea bag and let it steep for 1-3 minutes, depending on your personal taste.
Serving suggestions for Double Green Matcha Tea:
The tea is delicious on it's own, but I also enjoy it with a bit of honey and lemon. For an extra boost of health and flavor, try adding a couple slices of fresh ginger to the cup while steeping as well.
Where to purchase Double Green Matcha Tea by The Republic of Tea:
This tea can be ordered HERE, and shipped right to your door!